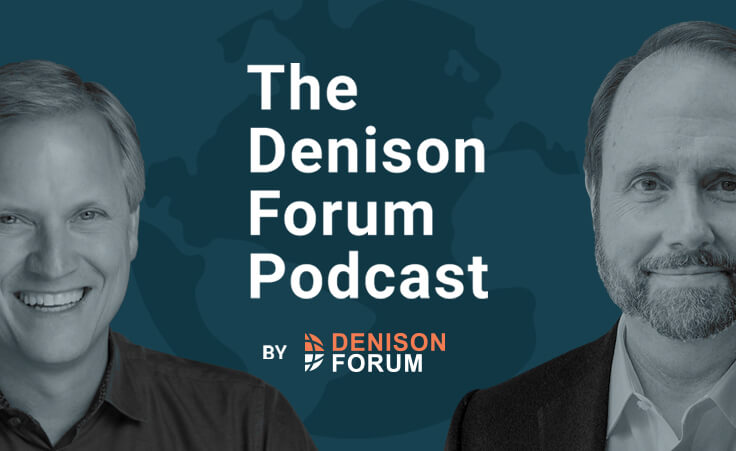 Summary: Dr. Lee Bratcher and Dr. Mark Turman dive into the world of cryptocurrency, why Bitcoin is uncensorable, how refugees use it to flee oppression, why Bitcoin will likely rival gold, and why blockchain technology is already being used by banks and governments. 
Show notes: Dr. Mark Turman and Dr. Lee Bratcher discuss the Institute for Global Engagement at Dallas Baptist University and the Texas Blockchain Counsel, the nonprofit run by Dr. Bratcher. They reflect on what money is, the basics of economics, and the history of Bitcoin (8:16). They discuss the power of Bitcoin to be uncensorable, how even the US government cannot track it, and how it's already helping refugees escape from authoritarian regimes (16:41). They discuss online "wallets," how Bitcoin gained value, where it comes from, and how it uses the internet to be decentralized (19:50). Dr. Bratcher goes in depth into why Bitcoin is so secure and why Bitcoin has a market cap of around one trillion dollars right now (28:06). They consider why so many use Bitcoin and how it can be an asset like a stock (even though they are technically not) (38:25). Interestingly enough, they consider how this blockchain technology can make banking as a whole much more efficient and how China is using it already (45:35). Finally, they discuss why religious freedom and Bitcoin are connected, and why Bitcoin is fair according to biblical standards (51:25). 
Resources and further reading:
About the host
Dr. Mark Turman is the executive director of Denison Forum. He received his DMin from Truett at Baylor and previously served as lead pastor of Crosspoint Church. 
About the guest 
Lee Bratcher serves as the Chair for the Politics, Philosophy, and Economics major at Dallas Baptist University as well as the Executive Director for the Institute for Global Engagement, a DBU affiliated think tank. He is a Captain in the US Army reserves working as an instructor for ROTC cadets at DBU and UT Dallas.
Lee received a master's in International Relations from St. Mary's University and is in his sixth year as a Ph.D. candidate at UT Dallas writing a dissertation on the implications of blockchain technology on property rights and real estate. Prior to his transition to academia, Lee served in the military and as a police officer in the DFW area. Lee has been married to Becca Bratcher for 6 years and they have two daughters, Kenzie and Ivy.
Unless otherwise noted, all Scripture quotations are from the ESV®️ Bible (The Holy Bible, English Standard Version®️), copyright ©️ 2001 by Crossway, a publishing ministry of Good News Publishers. Used by permission. All rights reserved. The ESV text may not be quoted in any publication made available to the public by a Creative Commons license. The ESV may not be translated in whole or in part into any other language.