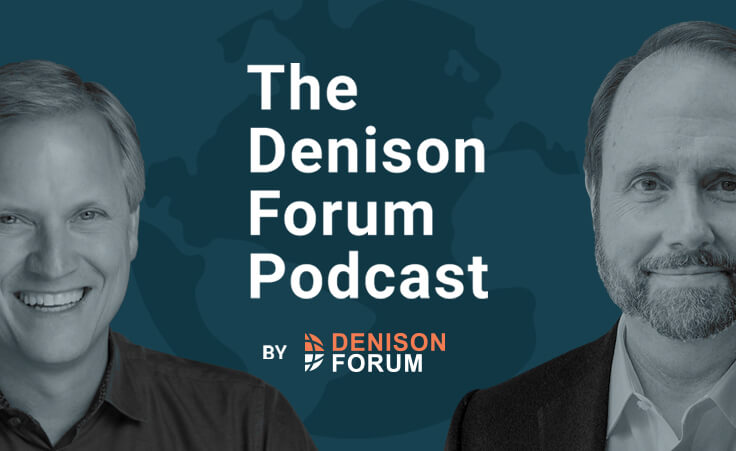 The Denison Forum Podcast Season 1, Episode 5 show notes
Release date: Wednesday, January 19, 2022
Summary: Dr. Jim Denison and Dr. Mark Turman explore how Christians have lived faithfully in their cultural moment for thousands of years, how we must break free from the Sunday/Monday heresy, the importance of a personal relationship with Christ, how Christianity is a bad religion without such a personal relationship, and how the culture has created a new religion of humanism and self-affirming authenticity.
Show notes: Dr. Jim Denison and Dr. Mark Turman discuss the intended audience of Jim's new book, The Coming Tsunami, which is for all Christians, and particularly for those in places of cultural influence. Christian movements in history start with a small number of people, "faithfully manifesting" where God put them. They discuss the third and fourth great awakenings (or the Welsh revival), which began with "regular, average" Christians.
Mark discusses how we often don't see the results of our faithfulness in our lifetime, and we must leave the results to God's providence. Faithfulness takes patience, and, as Jim has written, "You can't measure the eternal significance of present faithfulness." They delve into the Protestant Reformation, how it began, and some of the key believers in the movement.
They then address the "Sunday/Monday heresy," which refers to the view of many Christians who live as Christians on Sunday morning but have their own lives every other day of the week. Christ calls us to give every minute of our lives over to him. 
This leads them to discuss the essential part of Christianity as being in the relationship with Christ, not the religion. While religion is important, i.e., going to church, singing hymns, liturgy, etc., without the relationship, religion is an empty shell. Jim reveals a time when, as a pastor, God convicted him that while Jim loved Jesus, he wasn't in love with Jesus. 
They then delve into what has become the overarching ideology or creed of our culture: personal authenticity. They discuss the evolution of this creed over time: how Christianity was at first important and culturally encouraged, then it became a personal hobby, then irrelevant, and now it's considered dangerous. The culture has almost fully bought into humanism. 
They consider the implications of this creed, how nowadays everything is centered around feelings and our experience. 
Sometimes, true repentance is harder than religion. Often, having a relationship with Christ is more difficult than following an empty creed. Many issues in our culture stem from the transference of responsibility to anything and everyone but ourselves. There's a sense in the culture now that "I" cannot be at fault; it must be the system or other people. While there are complex issues here, the gospel ultimately relies on the submission of oneself to Christ, no matter our circumstances. 
P.S. Pre-order The Coming Tsunami today and you'll be invited to an exclusive, virtual, live Q&A with Dr. Denison discussing whether Critical Race Theory is biblical. Visit TheComingTsunami.com to pre-order and follow the directions on that page to receive your invitation to this book launch event on January 25. 
Resources and further reading:
About the hosts 
Dr. Jim Denison CVO and cofounder of Denison Forum and a cultural scholar. He received his Ph.D. in philosophy and Master's in Divinity from Southwestern Baptist Theological Seminary. 
Dr. Mark Turman is the executive director of Denison Forum. He received his DMin from Truett at Baylor and previously served as lead pastor of Crosspoint Church. 
Unless otherwise noted, all Scripture quotations are from the ESV®️ Bible (The Holy Bible, English Standard Version®️), copyright ©️ 2001 by Crossway, a publishing ministry of Good News Publishers. Used by permission. All rights reserved. The ESV text may not be quoted in any publication made available to the public by a Creative Commons license. The ESV may not be translated in whole or in part into any other language.