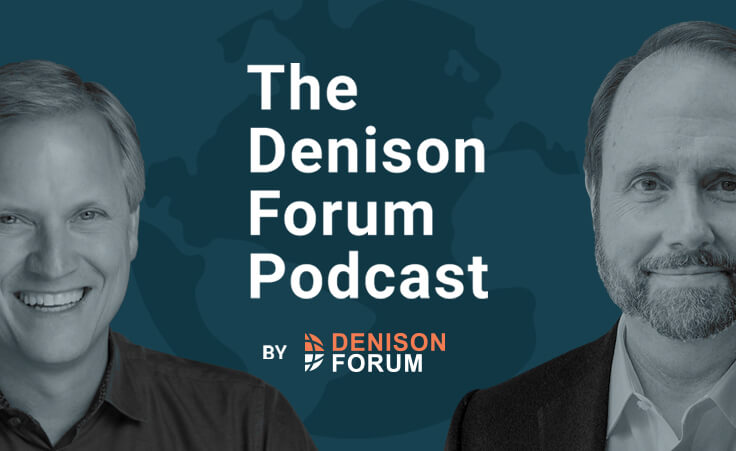 Summary: Dr. Mark Turman and Dr. Jim Denison discuss how to understand modern Israel through a theological lens, the current political climate, the history of the Jewish people, how to pray for Israel, and how Christian and Jewish beliefs differ.
Show notes: Dr. Mark Turman and Dr. Jim Denison begin by giving a brief description of Israel's geography and its demographics as of today (5:37). Then, Dr. Denison provides a summation of the history of Israel and of the Old Testament (12:05). They discuss how going to Israel makes the Bible 3D and tangible (15:42). He then goes on to fit the story of Jesus into the context in a vivid description in the historical context and discusses why most modern Jews today reject Jesus as the "suffering servant" Messiah (21:43). Dr. Denison then explains differing views on the fulfillment of God's purpose for Israel and Judaism, including Dispensationalism and "replacement theology." (27:49) Dr. Denison relates his own view that, while the Jewish people are not chosen by God in fulfillment of prophecy, they have a special quality about their culture that is blessed by God. While God loves all people, Palestinians, Arabs, Muslims, and Jews, he seems to particularly bless the Jewish culture, even in the modern day (31:04). Dr. Turman presses in, asking more about how we can uniquely evangelize to Jews, recognizing that Jesus, his disciples, and the earliest churches were all Jewish (34:41). Within that, they discuss the evident spiritual warfare going on in the hearts of the Jewish people and in Israel right now, which is manifesting as violence. They discuss the current political climate of Israel and how to pray urgently for them (45:45).
P.S. Jim's most pivotal book to date, The Coming Tsunami, is now available on Kindle, hardcover, and Audible.
Resources and further reading:
About the hosts
Jim Denison, Ph.D., is an author, speaker, and the CEO of Denison Ministries, which is transforming 6.8 million lives through meaningful digital content.
Dr. Mark Turman is the executive director of Denison Forum. He received his DMin from Truett at Baylor and previously served as lead pastor of Crosspoint Church.
Unless otherwise noted, all Scripture quotations are from the ESV®️ Bible (The Holy Bible, English Standard Version®️), copyright ©️ 2001 by Crossway, a publishing ministry of Good News Publishers. Used by permission. All rights reserved. The ESV text may not be quoted in any publication made available to the public by a Creative Commons license. The ESV may not be translated in whole or in part into any other language.