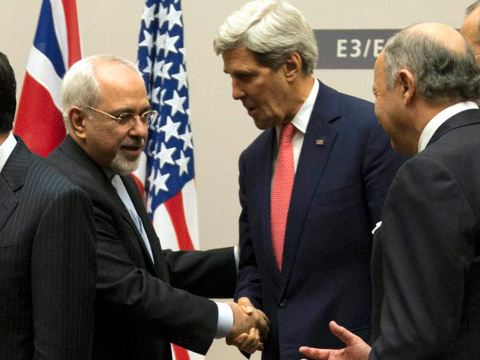 Last Saturday, negotiators in Geneva reached an accord with Iran that freezes its uranium enrichment program for six months in exchange for limited lifting of economic sanctions.  The Obama administration has called this an "historic agreement."  According to Israeli Prime Minister Netanyahu, it is a "historic mistake."  Which is right?
U.S. Secretary of State John Kerry says the deal "is better for Israel than if you were just continuing to go down the road and they rush toward a nuclear weapon."  He promises to reinitiate sanctions if Iran does not keep its promises.
By contrast, Israeli Prime Minister Benjamin Netanyahu says the deal "has made the world a much more dangerous place."  Why?  "For years the international community has demanded that Iran cease all uranium enrichment.  Now, for the first time, the international community has formally consented that Iran continue its enrichment of uranium."
And the deal leaves Iran "taking only cosmetic steps which it could reverse easily within a few weeks, and in return, sanctions that took years to put in place are going to be eased.  This first step could very well be the last step."  Mark Dubowitz, an expert on Iran, agrees: "It is an illusion to believe that sanctions will not be eroded significantly by this deal."  If the Geneva agreement brings other countries into continued commerce with Iran, he will be proven right.
Time will tell if the weekend accord is the first step to permanent progress with a now-moderate Iran, a promising plan that fails when implemented, or a naïve distraction that buys Iran more time and capacity to produce nuclear weapons.  In the meantime, Israel must "sleep with one eye open."  Just last week, Iran's Supreme Leader Khamenei called Israel the "sinister, unclean rabid dog of the region" and claimed that Jews "cannot be called human beings."  In addition, today is the 428th day American evangelical pastor Saeed Abedini has been incarcerated in the notorious Evin Prison for his faith.
The Persian (Iranian) people were once great allies of Israel.  God used their king Cyrus the Great to liberate his people from Babylonian bondage (2 Chronicles 36:22-23) and help them rebuild Jerusalem (Isaiah 45:13).  Israel and Iran were allies before the 1979 revolution turned the latter in a radicalized direction.
More Muslims and Jews have come to Christ in recent decades than ever before.  As we obey God's command to pray for the peace of Jerusalem (Psalm 122:6), let us also pray for peace in Tehran—not just the absence of war but the presence of righteousness.  Let us pray that the Prince of Peace would be king of both nations.  And let us pray this Thanksgiving week that America heed Abraham Lincoln's call to offer our Lord "humble penitence" and heartfelt praise for "the gracious gifts of the Most High God."
Political agreements can change laws, but only God can change the heart.