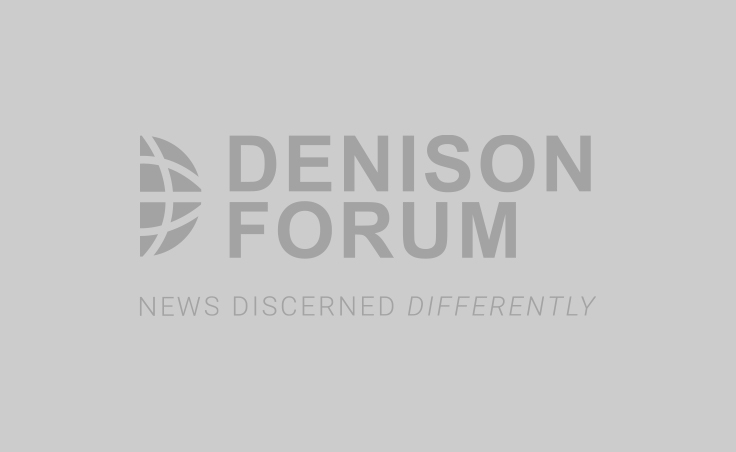 Topic Scripture: Genesis 12:1–9
The Winter Olympics end today. By its conclusion, there will have been 105 events in fifteen sports, the first Winter Olympics to surpass one hundred medal events. Nearly 3,000 athletes from 92 countries have been competing.
Through it all, the one common denominator for American television viewers has been Mike Tirico, NBC's primetime host. He also became the main studio host for NBC's coverage of the NFL last year. In both roles, he replaced veteran sportscaster Bob Costas, who hosted eleven Summer and Winter Olympic Games.
Here's what makes their connection so unusual: Tirico was the first student to receive the Bob Costas Scholarship at Syracuse University, Costas's alma mater, back in 1987. Costas could have had no idea 31 years ago that a student who went to school because of his scholarship would one day succeed him on arguably the largest sports television stage in the world.
You cannot know the future, but you can prepare for it. You cannot define your legacy, but you can live in such a way that those who do are marked by the Christ who lives in you.
You can be faithful to God today and trust him to use your faithfulness tomorrow. As we continue walking through the Book of Genesis, this week we come to one of the greatest role models of faith in all of human history. Let's learn from Abram how to trust and serve the God of Abram.
As we do, we'll learn this fact: you cannot measure the eternal significance of present faithfulness.
Why Abram?
"The Lord had said to Abram, 'Leave your country, your people and your father's household and go to the land I will show you" (v. 1).
There is absolutely no indication that this future father to more than half of the world's religious population did anything to earn this call on his life. He didn't graduate from Harvard Law on his way to be Chief Justice of the Supreme Court, or Yale Law, and years of political achievement on the way to becoming president. He didn't win two Super Bowls on the way to being the Dallas Cowboys' head coach, or rise to become the best assistant in the league before being named the Dallas Mavericks' head coach.
He has no resume, no list of achievements, no merit with God. Neither do we. Our lofty achievements can no more impress the omnipotent God of the universe than my singing voice will make me the next American Idol.
This man was in no sense perfect. Sometimes he lived up to his calling, as when he interceded for Sodom and Gomorrah and offered Isaac to God. Sometimes he failed miserably, as when he tried to pass off his wife as his sister, or fathered children with her servant girl.
His is the pattern of Scripture. Noah saved the human race, then planted a vineyard and got drunk; Moses ran from Egyptian authorities for forty years before returning to free his people from them; Bathsheba overshadows Goliath on David's resume; Peter denied Christ before he preached his gospel; Saul murdered Christians before he ministered to them.
I did absolutely nothing to warrant hearing the gospel when the bus ministry of College Park Baptist Church in Houston knocked at my door. I won no competitions for their attention, had no status in the community which would cause them to seek me out. I simply opened the door when they knocked on it.
What did you do to earn the right to be born in America and not Ethiopia? To have parents who loved you rather than abusing you? Were you any more moral than those who died on 9/11 or at Stoneman Douglas High School? I've flown on airplanes around the world and spoken at high schools around the country; the fact that I've never been harmed in one has absolutely nothing to do with me.
If God could call Abram, what's to keep him from calling you?
How to be Abram
Why Abram? What did he bring to the table? Just this: when God said, "Leave your country, your people and your father's household and go to the land I will show you" (v. 1), "Abram left, as the Lord had told him" (v. 4). As Hebrews 11:8 says, "By faith Abraham, when called to go to a place he would later receive as his inheritance, obeyed and went, even though he did not know where he was going." As the King James puts it, "he went out, not knowing whither he went."
Why is such blind obedience essential to the blessing of God? Is it that this kind of unconditional faith earns God's favor? No: "it is by grace you have been saved, through faith—and this not from yourselves, it is the gift of God–not by works, so that no one can boast" (Ephesians 2:8–9). We do nothing to earn God's call.
Why then? Because God honors the freedom he gave us and will not lead us where we will not go.
He will not make any of us leave Haran for a Promised Land. He won't make you trust him with your dating relationship, or marriage, or money, or time. His will for your life is "good, pleasing and perfect" (Romans 12:2); he has "plans to prosper you and not to harm you, plans to give you hope and a future" (Jeremiah 29:11).
What he said to Abram he says to you today: "I will make you into a great nation, and I will bless you; I will make your name great, and you will be a blessing" (v. 2); "all peoples on earth will be blessed through you" (v. 3b).
A single day lived completely in the will of God bears eternal harvest.
When we give his word to our world, that word "will not return to me empty, but will accomplish what I desire and achieve the purpose for which I sent it" (Isaiah 55:11). When you teach his word in a Bible study class, or speak it to a friend, or obey it in your personal life, it cannot fail to change the world.
When we perform an act of kindness in his name, we will one day hear Jesus say, "Come, you who are blessed by my Father; take your inheritance, the kingdom prepared for you since the creation of the world. For I was hungry and you gave me something to eat, I was thirsty and you gave me something to drink, I was a stranger and you invited me in, I needed clothes and you clothed me, I was sick and you looked after me, I was in prison and you came to visit me. . . . I tell you the truth, whatever you did for one of the least of these brothers of mine, you did for me" (Matthew 25:34–36, 40).
These promises have no conditions. They do not depend on the money you make, or the home you own, or the status you've achieved.
The wealthiest man in your city is no more important to God than his gardener. Name the last five Nobel Peace Prize winners, or the Super Bowl champions of two years ago, or the World Series champions last year, or the monarch of Great Britain before Queen Elizabeth II.
If you think that your value on earth or in heaven is tied to the world's assessment, you're mistaken. No human can bless "all peoples on earth" or make a significant difference in time and eternity. Only God working through us can do that.
Every one of us can change the world. But only if we seek his will and surrender to his voice. Only if we go out not knowing.
But he cannot lead you if you won't follow. If you're building towers to glorify yourself instead of altars to glorify God, he'll tear them down. He will not share his glory, because that would be idolatry, the worst cancer of our souls. He loves us too much to let us trust and serve anyone but the one true God and Lord.
Conclusion
Where do we begin? Where Abram began. When last did you tell God you would "go out not knowing"?
I will be on an airplane again this weekend and have been thinking about that familiar experience as a metaphor for today's message. You and I are on an airplane that's ready for takeoff today. Who's behind the controls? You are unless you've consciously turned them over to the true Pilot of the universe. Unless you've decided to let him fly the airplane anywhere he wants.
How can you turn the plane over to him?
First, meet the Pilot personally. He cannot fly the plane unless he's on board. Ask him to forgive your sins and failures and invite him into your life as your Lord. You must know him before you can follow him.
Now, let go of the controls yourself. He won't fight you for them. Admit the areas of your life which you've not surrendered to him—your time, ambitions, relationships, money, sins.
Give him the wheel at the start of every flight. Never take off at the beginning of a day without first giving that day's flight to his control. Begin every morning by yielding that day to his Spirit. Ask him to "fill" and control you, to be in charge. When you push him out of the cockpit, admit your rebellion immediately and invite him back.
Living in the Lordship of Jesus is so simple that all of us can do it. And so important that all of us must.
Who is flying the airplane of your life and legacy today?