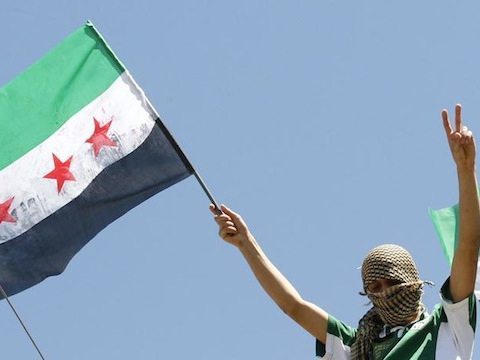 One year ago, President Obama said that the use of chemical weapons would be the "red line" that forced the United States to intervene in the Syrian civil war.  That line has been crossed in recent weeks and the death count has reached over 100,000 as the 30-month mark of this civil war is approaching; we are waiting to hear what course of action the Commander-in-Chief will take.
This administration has proved to be reluctant in its involvement concerning conflicts in the Middle East, and its intervention now would surely be a commitment to the aftermath as well.  According to George Friedman's Stratfor analysis, when and if the United States and its allies take further action in Syria, it will "likely seek a limited scope to any possible operation." He goes on to say that "a punitive series of missile strikes and airstrikes or an effort to dismantle Bashar al Assad's ability to use chemical weapons is most likely."
The US has full capability of exercising precision attacks without the use of any ground troops. Four Arleigh Burke-class destroyers armed with cruise missiles and B-2 stealth bombers from a nearby base in Qatar could easily target bunkers where chemical weapons are thought to be stored.
But newly appointed US Defense Secretary Chuck Hagel said at a press conference on Monday that "The United States is looking at all options regarding the situation in Syria.  We're working with our allies and the international community.  We are analyzing the intelligence. And we will get the facts.  And if there is any action taken, it will be concert with the international community and within the framework of legal justification."
The Russian Foreign Minister Sergei Lavrov has warned against any military intervention in Syria saying that "the use of force without the approval of the United Nations Security Council is a very grave violation of international law."  China has urged caution as well, and will likely oppose any military intervention as well.
If the United States intervenes it will likely be with a NATO coalition as President Obama and Secretary Hagel seek to discuss options with France and Britain.
It all seems a bit overwhelming, doesn't it?  
Join me in going to our Father in Heaven with our worries and concerns.  
Our Father, we come to you today with great concerns.  First, we pray for the lives of many in the Middle East to come to know you through the grace and sacrifice of your Son, Jesus Christ.  We know that you love each and every one of them and desire for none of them to perish.  We ask that you would minimize loss of life in Syria, and that you would give President Obama and our leaders great wisdom for how to handle this difficult situation.  
Father we also, as your Word prescribes, pray for the peace of Jerusalem and Israel, which shares a border with Syria.  And lastly Lord, we ask that you would protect the lives of Christians in Egypt who are suffering violent persecution.
May it be on earth as it is in Heaven, for your glory, Father.
We ask these things in the name of Jesus Christ, our savior. Amen.