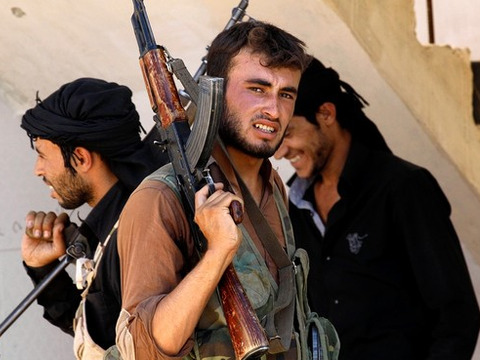 Have you heard of the terrorist group, Islamic State of Iraq and Syria (ISIS)?  They were formed in April 2013 out of al-Qaeda affiliated groups in Iraq, and have since become a major player in the Syrian rebellion.
Western observers are not sure of the group's size, but believe that it includes thousands of fighters, including many foreign jihadists.  Non-Syrians apparently constitute a majority of ISIS's elite fighters and are disproportionately represented in its leadership.  It gained control of the city of Raqqa in March 2013 and is active in a number of northern towns close to the Turkish border.  Wherever the group gains power, it is known for beheading enemies and oppressing the population with its rigid legalism.
The group is so radical that it has been fighting with other insurgency groups.  Last July, ISIS fighters reportedly killed a commander of the Western-backed Free Syria Army (FSA).  Last November, it was accused of killing a prominent member of the Syrian Islamist group Ahrar al-Sham.
They have been targeting doctors, reporters, media activists and aid workers in Syria.  Six employees of the International Committee of the Red Cross were abducted last October, causing the ICRC to halt operations in northern Syria.  The New York-based Committee to Protect Journalists calls ISIS the "single biggest threat to journalists" in Syria, and counts 30 journalists missing there.
Last week, al-Qaeda severed ties with the violent group, the first time they have ejected a group that had formally joined their movement.  ISIS is now likely to increase its attacks in Syria to prove its viability after losing its al-Qaeda designation.
And al-Qaeda constitutes a growing threat in the Middle East and the West.  The group now controls more territory in the Arab world than at any time in its history.  CIA Director John Brennan recently told the House Intelligence Committee that al-Qaeda camps in Iraq and Syria are developing terrorist capabilities that can be used there and in the U.S.  He views these camps as a genuine threat to America.
In addition, counterterrorism officials now believe that some 70 Americans have joined the fight in Syria over the last three years.  They worry that these fighters will return to the U.S. radicalized and perhaps even try to carry out terrorist attacks here.
More than 12 years after 9/11, it is clear that the fight against radical Islam continues.  But God can change hearts no human can reach.  The One who transformed Saul from a persecutor of Christians to our greatest missionary and theologian can do the same with anyone.  Have you prayed for radical Muslim leaders to meet Jesus yet today?