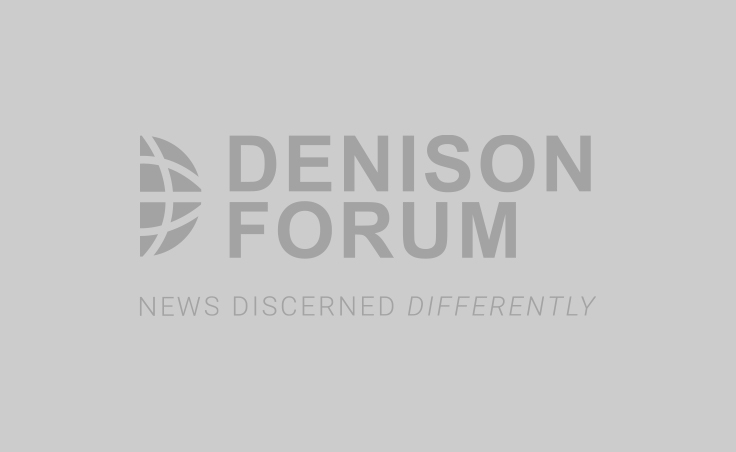 Event: October 12, 2015 / Dallas Baptist University Chapel
Text: Matthew 18:1-4
Pope Francis recently visited Washington, D.C., New York City, and Philadelphia over six days. Some 15,000 people gathered to see him outside the White House. More than 80,000 followed his procession through New York City's Central Park. Hundreds of thousands turned out for his final Mass in Philadelphia. He dominated headlines and news coverage during his stay.
The pope has been named Time magazine's "Person of the Year." Esquire named him their "Best-Dressed Man." Rolling Stone featured him on their January 2014 cover. Fortune ranked him as number one in their list of 50 greatest leaders. Forbes designated him the fourth most powerful person in the world, the only non-political figure in their ranking.
What makes him so popular?
We all want our lives to count. We want to be people of significance. We want to make a difference, to leave a legacy, to do something important. You're in school because you want to better yourself, to become more, to do more. And that's a very good thing.
What is the secret to true, lasting significance? The answer is found where our self-promoting, self-sufficient culture least expects it.
Let's look at two stories, then see how they intersect your story this morning.
A humble man
Jorge Mario Bergoglio was born Argentina on December 17, 1936. A lifelong Catholic, he was on his way to propose marriage to a girl he loved when he passed by a church and went in to confession. There he had a life-changing encounter with God, and sensed a divine call into the priesthood.
He entered the Jesuit order, where he obtained a degree in philosophy and taught literature and psychology. A rising star, he was appointed head of all Jesuits in Argentina and Uruguay at the age of 36. It did not go well.
This was a difficult time for the nation, with political divisions and widespread corruption. Catholics were split over liberation theology and other contemporary trends. By his own admission, however, Bergoglio's leadership style made things worse. What he later called "my authoritarian and quick manner of making decisions" led to serious divisions within the Jesuit community. By 1990, two-thirds of Argentina's Jesuits were opposed to his leadership. One told an interviewer, "He drove people really crazy with his insistence that only he knew the right way to do things."
As a result, he was exiled, sent to live in the Jesuit residence at Cordoba, Argentina. For two years he was not permitted to say Mass in public in the Jesuit church. He could hear confessions, but his correspondence was controlled and his supporters were told not to contact him. Bergoglio later called this "a time of great interior crisis."
The priest who emerged was more humble, servant-hearted, and people-centered than ever before. He learned that caring for hurting souls was the Church's primary responsibility, and that her leaders must lead with compassion.
He began concluding every conversation by asking the other person to pray for him (a practice he continues as pope). Even when he later became archbishop of Argentina, he chose to live in simple quarters, ride public transportation, and cook his own meals. He made people the center of his concern and ministry.
A humble pope
When Cardinal Bergoglio was chosen pope two years ago, his first act was to receive his fellow cardinals as their peer, standing on their level. For his first public appearance, he wore a white cassock, the ordinary papal dress, rather than the more formal red, ermine-trimmed mozzetta used by previous popes.
He chose to wear the same iron pectoral cross that he had worn as Archbishop of Buenos Aires, rather than the gold one used by his papal predecessors. His first public act was to bestow the Urbi et Orbi blessing on pilgrims standing en masse in St. Peter's Square. But before he blessed them, he asked them to pray for his predecessor, Pope Benedict XVI, and for himself.
Pope Francis then chose to remain in the Vatican guesthouse rather than moving to the official papal residence in the Apostolic Palace. He is the first pope since Pius X (who died in 1914) to live outside the spacious papal apartments. And he travels around the Vatican in a donated 1984 Renault with 190,000 miles.
On the first Holy Thursday following his election, Francis participated in the traditional Maundy Thursday foot-washing service, choosing 12 people (symbolizing the 12 disciples). However, the 12 he chose were juvenile offenders from Rome's Casal del Marmo detention facility.
He washed and kissed their feet, then told them, "Washing your feet means I am at your service." He then encouraged them to "help one another. This is what Jesus teaches us." Two of the twelve were female, making Francis the first pope ever to wash the feet of a woman. In addition, two of the juvenile offenders were Muslims.
When one young man asked why he had chosen them, Pope Francis replied that the gesture came "from my heart.  Things from the heart don't have an explanation." By washing their feet, he earned the right to preach the gospel to their souls.
From the first day of his papacy to today, Francis has sought to serve with compassion. He has adopted a humble posture that admits that we are all sinners in need of a Savior. And his humility has endeared him to the world.
Even more, it has positioned him to be used by God. Our Lord cannot lead those who will not follow, nor give what we will not receive. Self-sufficiency is spiritual suicide. It's been said, If you want to get along with God, stay off his throne.
Choosing humility
Now to our second story. Jesus has returned from the Mount of Transfiguration to Capernaum. Along the way, he warned his disciples of the persecution to come (Matthew 17:22-23). He dealt with opposition from the authorities there (vs. 24-27), and will again. He knew that he and his band of disciples were about to face ridicule, rejection, and death.
Jesus' disciples asked him, "Who is the greatest in the kingdom of heaven?" They thought of this as an earthly kingdom Jesus would inaugurate (remember their question after his resurrection in Acts 1:6, "Lord, will you at this time restore the kingdom to Israel?"). In other words, they wanted to know which of them would be "greatest" (megas) in this kingdom, this movement. They assume it is one of them, and want to know which one. Who is doing best so far? Who can expect the greatest reward and authority?
"Calling to him a child"—there was clearly a child in their midst.  Jesus traveled with very large groups by this time (note "when they came to the crowd" following the Mount of Transfiguration). Luke 8:1-3 lists women traveling with Jesus; perhaps one of them or another female follower was the mother of this child.
Jesus put the child in their "midst," among the Twelve, and said to them, "Truly, I say to you" (a phrase of emphasis), "unless you turn (turn around, change) and become (are created, born) like children, you will never (not ever, emphatic) enter the kingdom of heaven" (v. 3). What does he mean?
Children had no status or standing whatever.  They had no ability to earn or deserve anything.  It is the same with us (Ephesians 2:8-9)—saved by grace through faith.  Furthermore, to be "greatest in the kingdom of heaven" we must act like a child: reliant, trusting, dependent, trusting.
Such humility and service should mark our lives, because they marked Jesus' earthly ministry from its beginning to its end. A century ago, a poet described him this way:
Here is a man who was born in an obscure village, the child of a woman who, to her peasa
nt neighbors, was just one of them and one with them.  He grew up in another village.  He worked in a carpenter shop until he was thirty, and then, for three years, he was an itinerant preacher.  He never wrote a book.  He never had an office.  He never owned a home.  He never had a family.  He never went to college.  He never put his feet inside a big city.  He never traveled two hundred miles from the place where he was born.  He never did one of the things that usually accompany greatness.  He had no credentials but himself.
While still a young man the tide of private opinion turned against him.  His friends ran away.  One of them denied him.  He was turned over to his enemies.  He went through the mockery of a trial.  He was nailed to a cross between two thieves.  As he was dying, his executioners gambled for the only piece of property he had on earth, and that was his coat.  When he was dead he was taken down and laid in a borrowed grave through the pity of a friend.
Nineteen wide centuries have come and gone and today, He is the centerpiece of the human race and the leader of the column of progress.
I am far within the mark when I say that all the armies that ever marched, and all the navies that were ever built, and all the parliaments that ever sat, and all the kings that ever reigned, put together have not affected the life of man upon this earth as has that One Solitary Life!
Conclusion
Human words cannot change human hearts. If you want God to use your life for eternally significant purpose, you must let him use your life. In other words, you must be humble before God and before us. Then God can use your life to serve us.
John the Baptist said of Jesus, "He must increase, but I must decrease" (John 3:30). Scripture promises, "He leads the humble in what is right, and teaches the humble his way" (Psalm 25:9). Jesus was clear: "If anyone would come after me, let him deny himself and take up his cross daily and follow me" (Luke 9:23). Paul testified, "I have been crucified with Christ. It is no longer I who live, but Christ who lives in me. And the life I now live in the flesh I live by faith in the Son of God, who loved me and gave himself for me" (Galatians 2:20).
Dallas Baptist University is committed to the value of humility in service. Building servant leaders is the heart of the university's mission. Sculptures around the campus testify to the theme of sacrificial service. From Dr. Cook down, every leader and teacher is committed to servant leadership. One of the many reasons I believe God has so blessed this school is because it seeks to be a school that serves with humility, following the model of Jesus.
Now it's up to us to follow that model as well.
This decision starts at the start of every day. Begin the day by submitting your life to Christ as your Lord. Ask the Holy Spirit to fill and control you. Pray through your day, surrendering your plans to him. Spend time in his word and worship.
As you go through the day, stay submitted and empowered. Pray about challenges as they arise, temptations as they come, decisions as they appear. Stay humbled and submitted to your Father. And he will use your life beyond anything you can imagine. You cannot measure the eternal significance of present faithfulness.
The three greatest preachers of the last three generations are probably Charles Spurgeon, Dwight Moody, and Billy Graham.  What do they have in common?
Here is what Spurgeon said of himself, recorded in the preface to his collected sermons: "Recollect who I am, and what I am—a child, having little education, little learning, ability, or talent . . .  Without the Spirit of God I feel I am utterly unable to speak to you.  I have not those gifts and talents which qualify me to speak; I need an afflatus from on high; otherwise, I stand like other men, and have naught to say.  May that be given me, for without it I am dumb!" And God used him to preach to 10 million across his ministry.
D. L. Moody was the son of an alcoholic who died when Moody was four years old.  He completed seven grades of school.  He said of himself: "I know that other men can preach better than I can.  All I can say is that when I preach, God uses me." And he did—more than a million came to Christ through him.
Here is what Billy Graham says of himself: "I have often said that the first thing I am going to do when I get to Heaven is to ask, 'Why me, Lord?  Why did You choose a farmboy from North Carolina to preach to so many people, to have such a wonderful team of associates, and to have a part in what You were doing in the latter half of the twentieth century?'  I have thought about that question a great deal, but I know also that only God knows the answer." And he has preached to more people than anyone in Christian history.
Why did God use them so? Because they gave themselves to God in humility.  Who will be next?