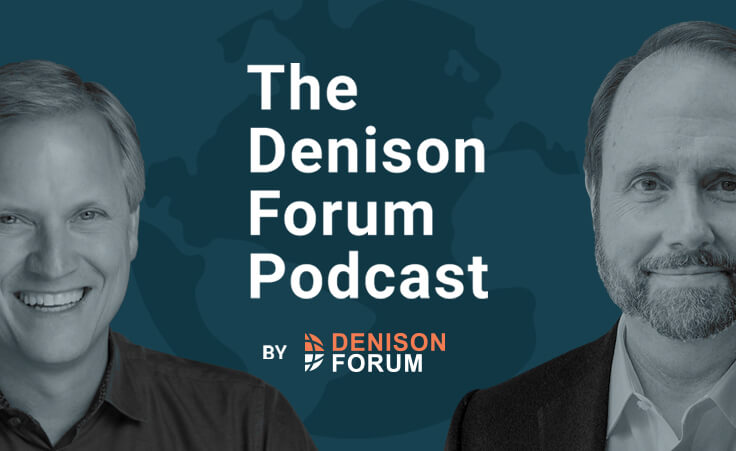 The Denison Forum Podcast Season 1, Episode 8 show notes
Release date: 2/14/2022
Summary: 
In this episode, Dr. Mark Turman and Dr. Jim Denison discuss God's sovereignty, some basics in philosophy and logic, human agency, Reformed theology, and John Calvin.  
Show notes: 
Dr. Mark Turman and Dr. Jim Denison start by revealing future plans for the podcast to being accepting questions from our audience and bring in more guest speakers. 
They introduce the problem of evil and ask, "How can God be sovereign, loving, and allow evil?" Jim establishes that sovereignty means God is Lord and king over every area of life. God's sovereignty shouldn't mean that we think of ourselves as automatons or robots. Some theologians believe our free will isn't real; it's only an illusion. Or, on the other side, some affirm that God's sovereignty is limited by our freedom. The middle ground is that we have free agency because God allows us to, which is the position Jim takes. Since we're limited beings, sometimes truths appear contradictory, when in fact they're not, and this is the case in regards to God's sovereignty and human free will. 
At this point, Mark and Jim take a turn to give a brief overview of the Reformation and what Reformed theology entails. They discuss Calvin's systematic theology in his work titled The Institutes of Christian Religion, its brilliance, and its shortcomings. Jim explains his own view in depth regarding the acronym for Calvinist beliefs "TULIP," describing himself as a "three-and-a-half pointer."
While these issues are important and warrant discussion, there remains a mystery in the relationship we have with Christ and God's nature. In the midst of evangelism and debates on Reformed theology, we must remember to be first and foremost humble. 
P.S. Jim's most pivotal book to date, The Coming Tsunami, is now available on Kindle, hardcover, and Audible.
Resources and further reading:
About the hosts 
Jim Denison, PhD, is the CEO of Denison Ministries and the author of The Daily Article. He received his PhD in philosophy and Master's in Divinity from Southwestern Baptist Theological Seminary. 
Dr. Mark Turman is the Executive Director of Denison Forum. He received his DMin from Truett at Baylor and previously served as lead pastor of Crosspoint Church.