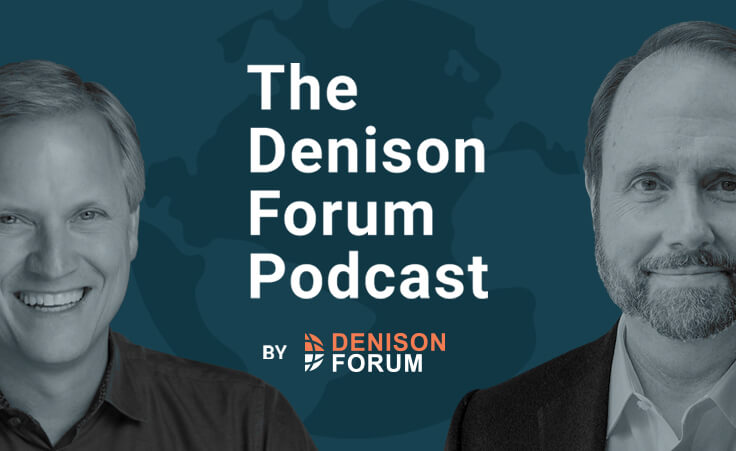 The Denison Forum Podcast Season 1, Episode 4 show notes

Release date: Monday, January 17, 2022
Dr. Jim Denison and Dr. Mark Turman discuss Karl Marx's philosophy, how Christianity moves on the shoulders of regular, faithful Christians, Critical Theory and Critical Race Theory, how systemic racism still exists, and how Christians can begin to navigate the culture on the issue of justice. 
In this episode, Mark and Jim begin by giving a personal biography of their lives and testimonies. In this, Jim explores how several key people who were faithful with their gifts helped bring him to trust in Jesus as his savior. As Mark quotes from his previous pastor, "Christianity goes forward on the shoulders of plain vanilla Christians."
Jim then discusses how the term theological middleman began to define his ministry calling, with a clear, strong conviction from the Lord. A large part of Denison Ministries' niche is equipping believers to love God with all of their minds. 
We often encounter a resistance to intellectual thinking in Christianity. A common Christian sentiment in the '60s and '70s was: Don't let college ruin you. Thankfully, in recent years, evangelicals have shown that we are not antagonistic to reason. John Lennox and Russell Moore are two prime examples. 
Then, Mark and Jim discuss the merits and flaws in Karl Marx's philosophy. Many of Marx's criticisms were accurate. Seeing the world through the lens of "class" is helpful, but only to a point, and it cannot provide a solid worldview. Later, certain philosophers in the Frankfurt School developed Critical Theory out of Marxism. This plays out in our era through Critical Race Theory, for example.
The philosophy behind Critical Theory is that if you are a part of a group that has benefited from oppression, you are also culpable to the oppression. The spread of this kind of thinking is evident, even in Texas public schools. Many, like Ibram Kendi, have now said that if we maintain the status quo, we are complicit in racism. Instead, we must be antiracist.
Mark and Jim then delve into why Critical Theory doesn't take sin nature into account. If the oppressed become powerful, they will be just as likely to oppress others, which is exactly what happened in the Soviet Union.
All of that said, Jim then argues that systemic racism continues to exist in modern-day America and gives several, well-attested facts that point to that truth. As believers, our first questions should be of self-examination: "How am I prejudiced? How can I amend where I have hurt others?" This means personally engaging with people who aren't like us and listening to their pains.
Sin makes the world a broken place. Jim brings up how, in the past, Christians have dealt with systemic injustice and how we can champion the gospel in this lost world. William Wilberforce, a Christian activist, helped upend the English slave trade. This call to action, to stand up for the oppressed and help bring true, biblical justice to the world, is part of the Christian's call. 
P.S. Pre-order The Coming Tsunami today and you'll be invited to an exclusive, virtual, live Q&A with Dr. Denison discussing whether Critical Race Theory is biblical. Visit TheComingTsunami.com to pre-order and follow the directions on that page to receive your invitation to this book launch event on January 25. 
Resources and further reading
About the hosts 
Dr. Jim Denison CVO and cofounder of Denison Forum and a cultural scholar. He received his Ph.D. in philosophy and Master's in Divinity from Southwestern Baptist Theological Seminary. 
Dr. Mark Turman is the executive director of Denison Forum. He received his DMin from Truett at Baylor and previously served as lead pastor of Crosspoint Church.