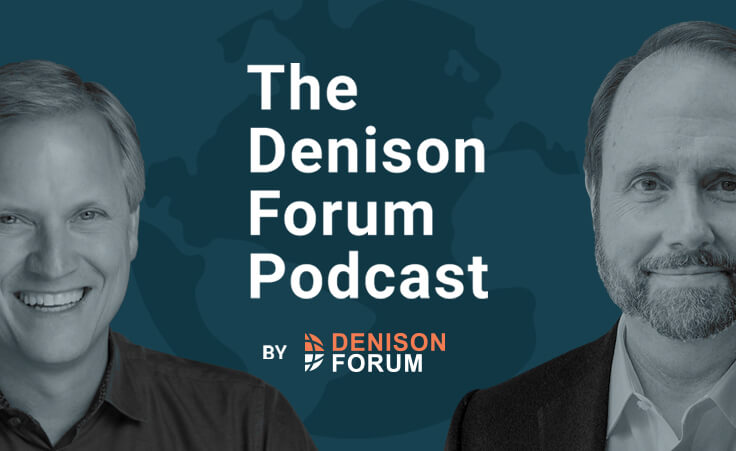 Release date: 3/14/2022
Summary: Retired Major (US Marines) Father Barry Montgomery joins Dr. Jim Denison and Dr. Mark Turman to discuss the state of affairs in Ukraine, Putin's military strategy and tactics, how Russian forces have miscalculated, President Zelensky's leadership, and Putin's connection to Christianity. 
Shownotes: In this episode, Dr. Mark Turman and Dr. Jim Denison are joined by Father Barry Montgomery, Retired Major, United States Marines. His specialty in intelligence qualifies him to speak with clarity and insight on the Russian and Ukrainian conflict. 
They begin by discussing the state of affairs in Ukraine, then consider Putin's military strategy, which cities he will have to take, and what appears to be his current plan. Father Montgomery provides personal insight into the strengths and weaknesses of the Russian armed forces, pointing out that the number of Russian troops deployed against Ukraine is far too small to complete Putin's objectives. He discusses what Russia miscalculated, his underestimation of resistance, where their strategy is effective, and potential outcomes for the future of this conflict. 
They reflect on the courage of Zelensky and the "X-factor" he provides for the conflict. His bravery and leadership parallel that of Winston Churchill on several levels. His ability to rally the average Ukrainian to arms and be willing to die for their country plays a major part in this conflict. 
Dr. Denison and Father Montgomery pause to reflect on the history of Russia, the nationalistic motivations of Putin, and his glory for a restored pre-soviet Russian empire. They consider his likely beliefs about the Soviet Union, how his vision for himself and Russia goes much farther back to someone like Peter the Great and the tsars rather than to Stalin or Lenin. 
Then, Dr. Denison and Father Montgomery consider Putin's spiritual motivations and his strong ties to the Russian Orthodox church. Putin's socially conservative vision is backed by his authoritarian power, and it's important to remember that he isn't trying to restore the atheistic USSR. Putin is partially using spiritual justification and considers the church the glue that holds Russia together in many ways. Dr. Denison and Father Montgomery discuss the implications of this. 
Father Montgomery closes by reading a prayer from the Ukrainian Orthodox Church in America.  
P.S. Jim's most pivotal book to date, The Coming Tsunami, is now available on Kindle, hardcover, and Audible.
Resources and further reading:
About the featured guest
Father Barry A. Montgomery served for twenty years in the United States Marine Corps as an infantry and intelligence officer, with six combat tours in Somalia and Iraq. He earned a Masters of Divinity degree from Azusa Pacific University and currently serves as the Rector of Christ the Redeemer Anglican Church in Dallas, Texas. 
About the hosts 
Jim Denison, Ph.D., is an author, speaker, and the CEO of Denison Ministries, which is transforming 6.8 million lives through meaningful digital content. 
Dr. Mark Turman is the executive director of Denison Forum. He received his DMin from Truett at Baylor and previously served as lead pastor of Crosspoint Church.